annsmarty on Tue, 2013-01-08 12:06.
18 comments
There's no way to list all Google updates and news since Threadwatch was closed in one post, but here's what we remember:
2007: Universal Search Birth
In April Google acquires DoubleClick "keeping Microsoft away from" it.
2007 was the year of Universal Search introduction the purpose of which was "to ultimately search across all its content sources, compare and rank all the information in real time, and deliver a single, integrated set of search results"
Smartest minds expect:
To see more link-baiting and less link buying
Widgets, content, the end of the page view as critical metric.
An increase in attention for web analytics, split testing
Possible emergence of Local SEO
2007: The largest trend is called "social media optimization" and the best tip is "the addition of social media badges to each of their stories"
2008: Google Suggest and Google Chrome
January: Blekko is named Google's next challenge (we did hope!). Here's an indepth comparison of Google versus Blekko (written 2 years later)
March: "The Google Quality Raters' Handbook" is made public (still can be found in Google) giving marketers some insight into how human reviewers evaluate search results.
May: Google launches "Friend Connect" allowing site owners to let visitors easily join their sites with their AOL, Google, OpenID, and Yahoo! credentials
July: Knol, the failed Wikipedia killer, is launched.
August: Google Suggest is finally introduced.
September: Google launches its own browser called Chrome as well as announces world's first Android-powered phone (with T-mobile). The same month Google is talking about the Future of Search:
...search engines of the future will be better in part because they will understand more about you, the individual user.
November: Google announces SearchWiki that never took off. SearchWiki was meant to let the community "edit" search results (vote results up and down as well as leave public notes). For many months, there's no way to turn the feature off.
2009: Site Speed and Rich Snippets
2009 ranking factors survey shows not much has been changing since 2007
February: Google, Yahoo and Microsoft all confirm they support canonical tag now allowing them to point search engines to the "main" version of the page without redirecting the visitors.
The same month Google also publishes some eye-opening eye-tracking studies:
March: Google launches WonderWheel (which will be gone in 2011) and other search "options". The same month, Google voice is announced.
May: Google rolls out Rich Snippets.
June: Google Squared is announced which is an experimental search tool that collects facts from the web and "presents them in an organized collection, similar to a spreadsheet".
July: From now on, you can follow official Google news on Twitter
October: Google talks about reputation management in search results and ways you "can encourage positive content" in search results for your name. The same month Google launches "social search" allowing you to see results from your friends.
November: Site speed is now a ranking factor, according to Matt
December: Google announces its search personalization: It's no more enough to sign out of Google to see unpersonalized results.
2010: Google Instant, Google Caffeine...
January: Google talks about privacy.
February: Google launches Google Buzz.
The same month Wired talks about Google algorithm evolution. Must read!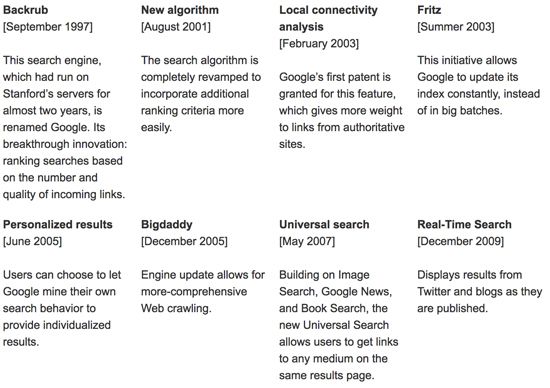 April: Google Places are born.
May: Google buys AdMob hoping to conquer mobile ads. The same month Google makes Google Wave public (and it's met with quite a lot of excitement) and announces Google TV.
June: Google announces "Caffeine", the faster web indexing system.
August: Google launches a separate page for real time search (which will go offline in 2011). (In November Google introduces "Promoted Tweets" support.) The same month Google makes a change to "allow a larger number of pages from the same site to appear for a given query. This happens for searches that indicate a strong user interest in a particular domain." (this was somewhat corrected in 2012)
October: Google Instant is launched. Now searchers may be even more distracted when searching for you. There's a way to turn the feature off, but Google Suggest is now on forever. The same month Google mentions working on driverless cars.
November: Google gets even more instant with Google Instant Previews
2011: Panda and Google Plus!
February: A major algorithm, called Panda or Farmer, affects 12% of search results. Then there were Pandas in April, May, June, July, August, September, October (Flux), November
June: Google's +1 buttons comes to search results and Google Plus is born. The same month Google announces "Search by image" feature. In June Google, Bing and Yahoo all announce Schema.org support. The same month Google announced it supports rel="author" markup.
July: Google Labs are closed
August: Google changes sitelinks: They are now arranged in clearer columns, more sites are allowed to have sitelinks and more sitelinks now show up in search results (for the top result only).
September: Google adds "Site Health" section inside Google Webmaster Tools and "indexing" stats inside it. The same month Google introduces support of rel="next" and rel="previous" "to indicate the relationship between component URLs in a paginated series"
October: Google Analytics rolls out "Not provided" referral data to "protect privacy" while still giving this information to ad buyers. The same month Google starts alerting webmasters of cross-domain duplicate content issues from inside Google Webmaster Tools.
November: Google rolls out "Freshness" update
2012: Penguins + Pandas
January: "Search, plus Your World" update is rolled out. You can now see your G+ connections and their updates inside search results. In January the new design "Ads above the fold" is announced.
January, February, March, April (twice), June (twice), July, August, September (twice), November (twice), December are the months of Pandas # 10, #11, #12, #13- #14, #15-#16, #17, #18, #19-#20, #21-#22, #23.
March: Google Venice update is held.
May and October, are the months of Penguins #2 and #3
April: Penguin update is on!
May: Knowledge Graph is announced. Now you see more information about some people and objects right inside SERPs.
August: Google will penalize sites with repeat copyright violations.
September: "Exact-match" update. From now on, an exact match domain is no longer your ticket to top 10. The same month Google merges Google Insights and Google Trends.
October: Google launches "Disallow" tool for you to get rid of bad-neighborhood backlinks. The same month, Google's ex-employee: "To please Google, don't do SEO!"
November: Google is blocked in China
More:
Do you have anything to add? Contact us and / or comment below!