twadmin on Tue, 2005-02-22 16:52.
17 comments
Thread Title:
Doing kottke.org as a full-time job
Thread Description: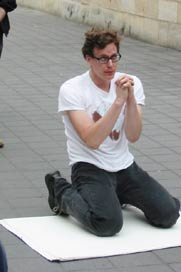 Famous (though lord knows why..) blogger Jason kottke has given up his day job and is now holding out his hand for Kottke.org fans to feed him.
I'm asking the regular readers of kottke.org (that's you!) to become micropatrons of kottke.org by contributing a moderate sum of money to help enable me to edit/write/design/code the site for one year on a full-time basis. If you find kottke.org valuable in any way, please consider giving whatever you feel is appropriate.
It's not that i mind the idea of contributions, it's not a dreadful idea in itself, but if that's his only idea for income generation on his website then he could well be up shit creek before too long...
It's both amusing and a little sad to see bloggers make such monumental mistakes, it was disagreeing with Yahoo's Russel Beattie over the idea of micropayments for blogging as a business model that led him to have a little foot stomp and ban my IP - Well, i just can't see donations, or micropayments for blogging as coming anywhere close to a viable business model.
Naturally, the "a list bloggers" and the "wanna be a listers" are falling over themselves to pat him on the back and congratulate him on his move. I wonder if any of them will be a good enough friend to tell him not to hand in his p45 just yet, or better still, come up with a real business model?
I hope im wrong for his sake, he may bore the arse off me but crikey, who'd wish that on anyone?